Aug
22
Thu
2019
Madison Rotary Club Lunch Meeting

@ Madison Hotel
Aug 22 @ 12:15 pm
The Rotary Club of Madison has an enthusiastic and engaged network of ordinary people doing extraordinary things to serve humanity in our local and global communities. We have 88 members and are inviting like-minded individuals to join our successful and vibrant club.  President Michel Belt encourages you to come learn about Rotary by attending any one of our three weekly meetings as our guest.
You have your choice of three weekly meetings:
Thursdays, 7:47 am breakfast at the YMCA,
12:15 pm lunch at the Madison Hotel or
6 pm the 1st and 3rd Thursdays at
Charlie Brown's in Chatham.
For questions or additional information, contact Barry Kroll, Membership Development Chair, at
barrykroll@aol.com or 973-476-2772.
Long Hill Historical Society Meeting

@ Millington's Historic Schoolhouse
Aug 22 @ 7:30 pm
LONG HILL TOWNSHIP HISTORICAL SOCIETY MEETING
MILLINGTON'S HISTORIC SCHOOLHOUSE
The Long Hill Historical Society meetings are held on the 4th Thurs of each month.
Meetings are held at the
Long Hill Township First Aid Squad building
949 Valley Road, Gillette
(between the Town Hall/Library complex and the Valley Mall; park behind the First Aid Squad building away from the building, or in the Town Hall parking lot). Meetings and presentations start at 7:30 pm. Meetings are free and open to the public. Refreshments will be served. For more information, comments or questions email toBeg51@aol.com or call 908-647-1523.
Rahway's Mayor Summer Concert Series

@ Union County Performing Arts Center
Aug 22 @ 7:30 pm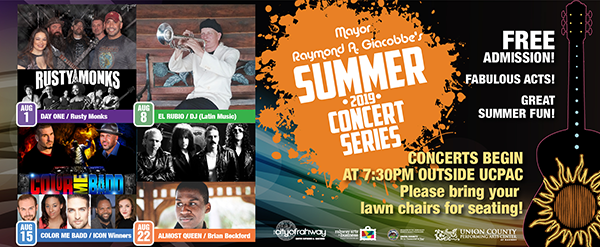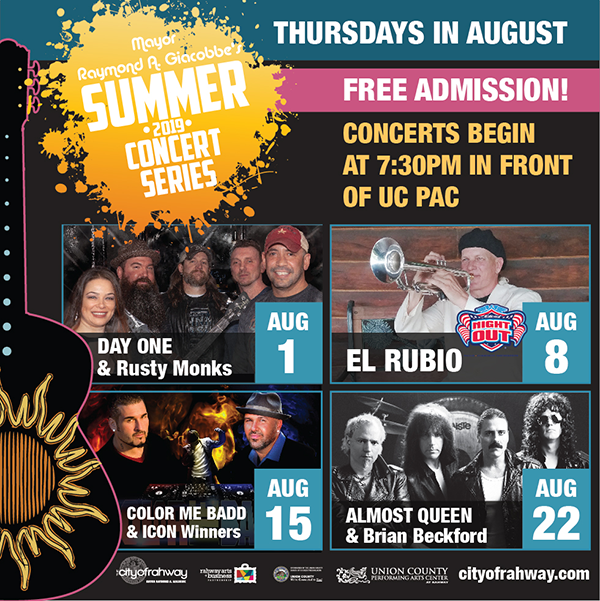 Mayor Raymond A. Giacobbe's Summer Concert Series
Make sure to come out for the City of Rahway's Summer Concert Series presented by Mayor Raymond Giacobbe. Thursdays in August are set to be full of music and great summer fun as local bands put on free performances.
Shows start at 7:30pm in front of the Union County Performing Arts Center
1601 Irving St, Rahway, NJ 07065